So i currently have the following 2 pc's
Older one (as a 'server')
Case: Antec 300
Motherboard: Asus P5QL Pro
CPU: Intel Quad 2.4Ghz
Memory: Geil DDR2 4Gb (4x1Gb)
Hard Drive: Hitachi 500gb
Graphics : some old Nvidia one.
OS: Server 2012 (DHCP, DNS, AD) with Debian Wheezy (virtualised) (Web & FTP)
I really ripped the old pc apart and gave bits away for a minimalist pc.
Current PC:
Case: Antec1200 V3
Motherboard: Asus M5A97 Pro
CPU: AMD Phenom II X6 1100T Black Edition
Cooler: Coolermaster Hyper 212 Plus CPU Cooler
Memory: 8GB Corsair Vengeance Blue (2x4GB) DDR3 PC3-15000C9 1866MHz
Graphics: Was a Radeon HD 6870 replaced last month with a Radeon R9 280X Sapphire Vapor.
Hard Drive: System (C:\) 500Gb Data (D:\) Seagate Barracuda 7200rpm, 2Tb Samsung Spinpoint 5400tpm, Games (E:\) 1Tb 7200rpm Samsung Spinpoint
Thinking of buying this as the server one is dying/dead and my current one isn't up to the challenge anymore:
I usually build my own system but I really don't want to mess with water and also don't have as much free time with my job to do so anymore.

Case: Azza Fusion 4000 Super Full-Tower 2-in-1 Gaming Case w/ Dual System Support, Dual PSU Support, 1x 140mm & 2x 120mm Fans, Front USB 3.0, HDD Easy Swap, 480MM Liquid Cooling Ready

Freebies: None

Lights & Illumination: NONE

Extra Case Fan Upgrade: 3 x 120mm Silent Case Cooling Fans in selected case key areas for ultra silent operation (500-1,200 RPM Sharkoon Silent Eagle SE 120mm Modular Fans with Dimple Surface Blade and Twister Bearing 8-14 dBA (Custom PC Award Winning !!))

Cyberpower Noise Reduction Technology: Cyberpower Sound Absorbing Foam -- reducing audible noise transmitted through solid case panels by up to 75%, and more(2)

CPU: INTEL® Core™ i7-4930K Six-Core 3.40 GHz 12MB INTEL Smart Cache LGA2011 ***Overclockable XXX***

Overclocking Service: No Overclocking

Overclock Monitoring and Media Server Station or Overclocking Media Server Station: INTEL Core I3-4130, 8GB Kingston HyperX Blu 1600Mhz, 2TB SATA III 7200RMP HDD, ASUS H87I-Plus MB, Windows 8.1 64Bit & FSP 300W uATX PSU 80plus

Cooling Fan: Cyberpower Advanced WaterCooling INTEL Medium Kit (Including 240m Radiator, 750res Pump/Reservoir, Rosa CPU Block, High CFM Fans, Tubing, and Coolant) ***Overclockable XXX*** (White Tubing - Medium)

Coolant for Cyberpower Advance WaterCooling Kits: High-Performance Non Conductive Coolant powered by Thermochill (UV Blue Colour)

Motherboard: ASUS Rampage IV Extreme INTEL X79 Chipset, 3-Way SLI / Crossfire, 4 Channel DDR3 ATX Mainboard w/ 8 RAM slots, ROG Connect, ROG UEFI Bios, BT GO, 7.1 HD Audio, GbLAN, USB3.0, SATA-III RAID, 5 Gen3 PCIe X16 & 1 PCIe X1 ***Overclockable XXX***

Internal USB/SATA Expansion Module: NONE

Memory: 32GB (4x8GB) DDR3/1600mhz Quad Channel Memory (Kingston HyperX Blu w/Heat Spreader)

Video Card: AMD Radeon R9 280X 3GB 16X PCIe Video Card (Major Brand Powered by AMD) Will Crossfire with my current 280X

Free Game Coupons: AMD NEVER SETTLE FOREVER GOLD: 3 Free Games

Power Supply Upgrade: 1000 Watts Power Supplies (Corsair 1000 Watts RM1000 Gold 80+ Modular Gaming Power Supply - Quad SLI Ready)

Hard Drive: 500GB Gaming Western Digital VelociRaptor 10,000RPM SATA-III 6.0Gb/s 64MB Cache WD5000HHTZ (Single Hard Drive)

Secondary Hard Drive: 1TB Gaming Western Digital VelociRaptor 10,000RPM SATA-III 6.0Gb/s 64MB Cache WD1000dhtz (Single Hard Drive)


Optical Drive: Pioneer BDR-209DBK 16X BLU-RAY Burner & 16X DVD±R/±RW Drive (please select the Blue Ray software in the Software section)

Sound: HIGH DEFINITION ON-BOARD 7.1 AUDIO

Network: ONBOARD 10/100/1000 GIGABIT LAN PORT -- As standard on all PCs

USB Port: Built-in USB 2.0 Ports

Ultra Care Option: Arctic Silver 5 - Thermal Compound Optimized for Thermal Dissipation, and more(2)

Operating System: NONE - FORMAT HARD DRIVE ONLY(NO OVERCLOCKING AVALIABLE)

Will then add 2 4TB HDD's to this system in RAID for my data.
What do you all think?
Here's a pic of what the case looks like: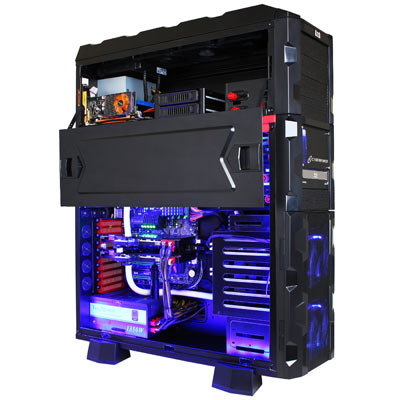 Edited by Hottwire, 08 July 2014 - 03:54 PM.