Samsung 960 Pro review: The fastest consumer SSD you can buy
Samsung takes SSD performance to another level—but it may be too much for some.
Edward Chester (UK) -
10/18/2016, 6:07 AM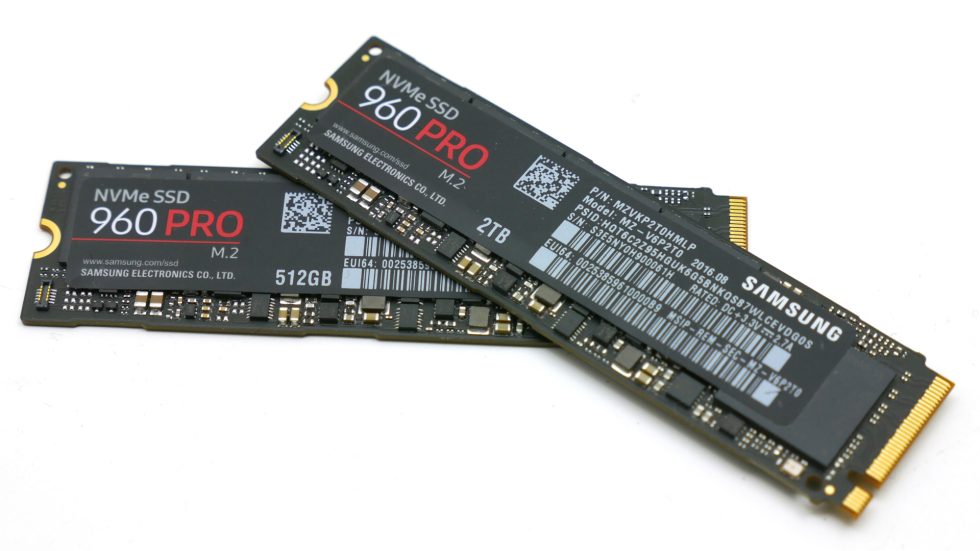 Edward Chester
44
The all new Samsung 960 Pro, released today, is the follow up to last year's 950 Pro. It offers the same core set of features, with an M.2 form factor, four-lane PCIe 3.0 interface, NVMe communication standard, and 3D V-NAND. But the 960 Pro isn't just a minor spec bump. Samsung has seriously cranked up the speed (and capacities) of its flagship drives to the point where such ludicrous performance may be lost on all but the most demanding of users. These are some seriously hardcore SSDs.
Where the 950 Pro was available in just 256GB and 512GB versions, the 960 Pro starts at 512GB, with 1TB and 2TB versions also available. For the first time, you can reasonably consider replacing an entire array of spinner hard drives or even 2.5-inch SATA SSDs with these things—so long as you've got the cash, of course. With a 256GB starting capacity, Samsung was able to offer the speed, longevity, and warranty of the 950 Pro to those only able to budget £170 ($199) for an SSD. But with the 960 Pro starting at $329 for the 512GB model (probably ~£330), rising to $629 for 1TB, and an eye-watering $1,299 for 2TB, you'll need to save some extra pennies to buy one, or wait it out for the Evo drives Samsung is launching later this year.
Although a marked step down from the Pro range in some regards, the Evos are in theory faster than the 950 Pro drives for less money (thanks to using cheaper and more tightly packed TLC V-NAND). The 250GB will cost just $129 (~£130), 500GB will be $249 and 1TB will cost $470. There won't be a 2TB version of the 960 Evo.
Does anyone really
need
a drive this fast?
So what sort of performance can you expect if you plump for the 960 Pro? Well, Samsung claims the full range will hit a maximum sequential read speed of 3,500MB/s. That's a massive 1,000MB/s or 40 percent faster than the 950 Pro's fastest option. Meanwhile sequential write speed is rated at 2,100MB/s, which is again 40 percent or 600MB/s faster. All of these speeds bore out in testing.
Samsung is also claiming the drives can manage 440,000 read IOPs and 360,000 write IOPs when it comes to random performance at a queue depth of 32 with four threads. When it comes to even the most intense workloads, these drives should still hold their own. Again, the 512GB model is slightly lower, managing 330,000 IOPs for both read and write. These numbers might not seem that striking when you consider that the 512GB 950 Pro also claimed 300,000 IOPs for random reads. However, for random writes 950 Pro was rated at just 110,000 IOPs, so we're talking about a 3x increase—ideal for heavy users like video editors.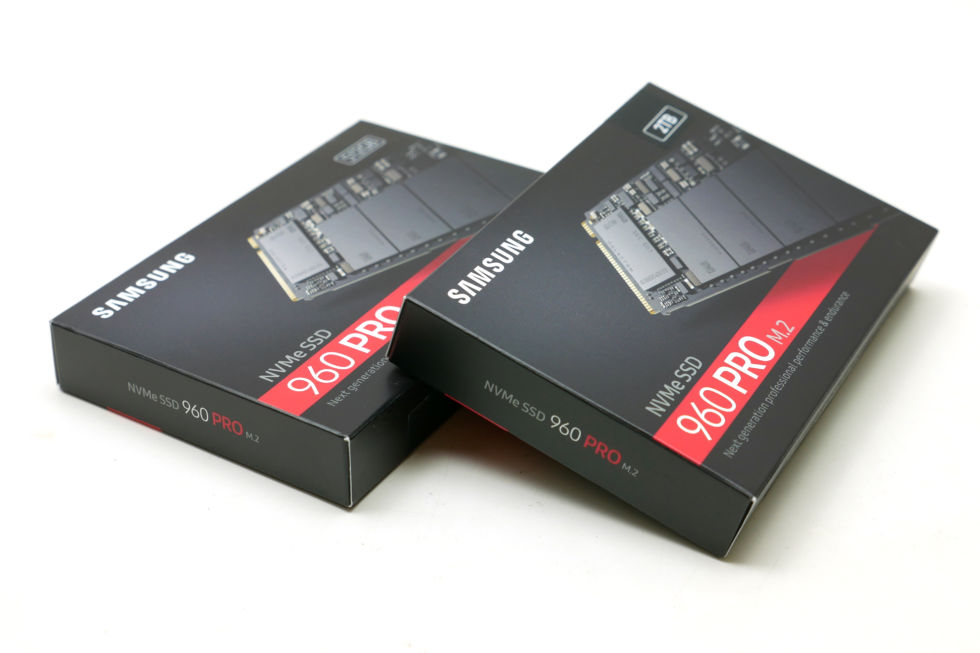 Edward Chester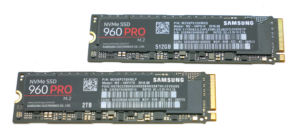 Edward Chester
These sorts of performance figures aren't unheard of, particularly in server hardware, but they're rare and certainly have never been available in consumer drives and in this form factor before. Other alternatives that have been battling with the 950 Pro over the last year include Intel's excellent 750-series, which offers superior random performance to the 950 Pro. But Intel can't match Samsung's sequential performance, not to mention that the 750-series is currently only available in a PCIe-board form factor. There's also the OCZ RD400A, which again offers performance comparable to the 950 Pro, but comes nowhere near the 960 Pro.
In fact, the closest alternative right now is another of Samsung's drives, the SM961 Polaris, which was released a couple of months ago. This is an OEM product not normally meant for sale to consumers but because it's based on the same technology as the 960 Pro and offers similar performance, retailers have been selling some of the drives.
They offer up to 3200MB/s read and 1800MB/s write speeds and the range topping 1TB model has even faster random performance with 450,000 read IOPs and 400,000 write IOPs. The drive is also available in smaller 256GB and even 128GB sizes, albeit with reduced performance. The SM961 could make for a good budget option, unless it's pulled from the shelves after the 960 Pro and Evo are released. One thing to note about the SM961, however, is that it doesn't come with Samsung Magician support (which makes firmware updates much easier), and only has a two-year warranty.
Speaking of which, Samsung has reduced the warranty offered on its Pro drives from the ten years of the 950 Pro to only five years for the 960 Pro. This is a shame, but the drives are rated for even higher usage than previous models: up to 400TB, 800TB and 1,200TB of total written data, or 1.2TB of newly written data per day for three years.
Prettier than your average SSD
The 960 Pro drives are based on the near-universal 80mm (M2280) variant of the M.2 standard, so should fit in just about any modern motherboard with an M.2 slot. However, these drives require those slots to be fed by four PCIe lanes with 32Gbps of throughput for maximum performance. If you don't have a slot, it's possible to add a slot via a cheap PCIe add-in board. Similarly, the drives should be compatible with most modern laptops that feature an M.2 slot, but some laptops use shorter versions of M.2 or those with a B-key edge, so be sure to check before taking the plunge.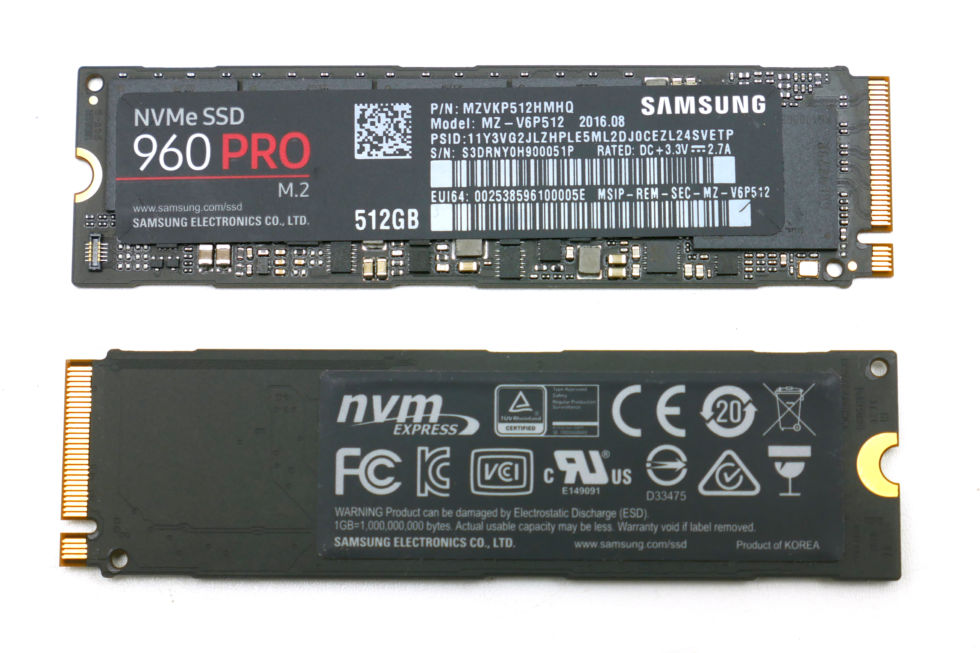 Edward Chester
Samsung has gone to some effort to make the 960 Pro as stylish as possible. A black PCB and black sticker over the chips makes them look far smarter than alternatives with a green or blue PCB, while the main logo has been moved from the back of the PCB to the front, so it's visible when mounted on a motherboard.
An intriguing new addition is the sticker on the back. M.2 SSDs pump out a fair bit of heat under heavy load, with some 950 Pro users finding drives could throttle inside particularly hot systems. While Samsung hasn't gone as far as sticking a heatsink on the 960 Pro, it has incorporated a thin sliver of copper into the rear sticker label to help dissipate heat. You can clearly see the thin layer of copper shining out from it when you handle the drive.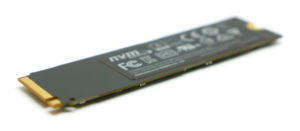 Enlarge
/
The back side of the SSD, showing the copper'ish sticker.
Edward Chester
Given I only had one review sample of each drive, I didn't want to risk removing the label to test its affects, but Samsung claims the addition of it allows the 960 Pro to last twice as long as the 950 Pro during sequential read operations before the drive will have to implement some thermal throttling. Specifically, Samsung rates the 950 Pro as able to read 158GB before throttling, while the 960 Pro manages 333GB.
Under the hood
At the heart of the 960 Pro is Samsung's latest 48-layer 3D V-NAND (the 950 Pro used mere 32-layer 3D V-NAND). Each of those 48-layer dies stores up to 256Gb of data, with Samsung piling up to sixteen of those on top of each other to create each NAND package—the chips you actually see on the PCB. All three capacities use four of these NAND packages for maximum performance, because it allows the drive's controller to evenly distribute the workload, avoiding the large performance gulfs you often seen between higher and lower capacity drives.
Like the 950 Pro, the 960 Pro uses NAND configured to run in MLC (multi-level cell) mode, where two bits of data are stored in each memory cell, which means the drive can maintain full performance during prolonged write operations. That's opposed to, say, less capacious SLC NAND (single-level cell), which stores one bit of information per cell, or TLC flash (triple-level cell), which stores three bits of data per cell. The latter allows for much higher densities at a cheaper price—hence its use on the upcoming Evo range—but it's inherently much slower to write to.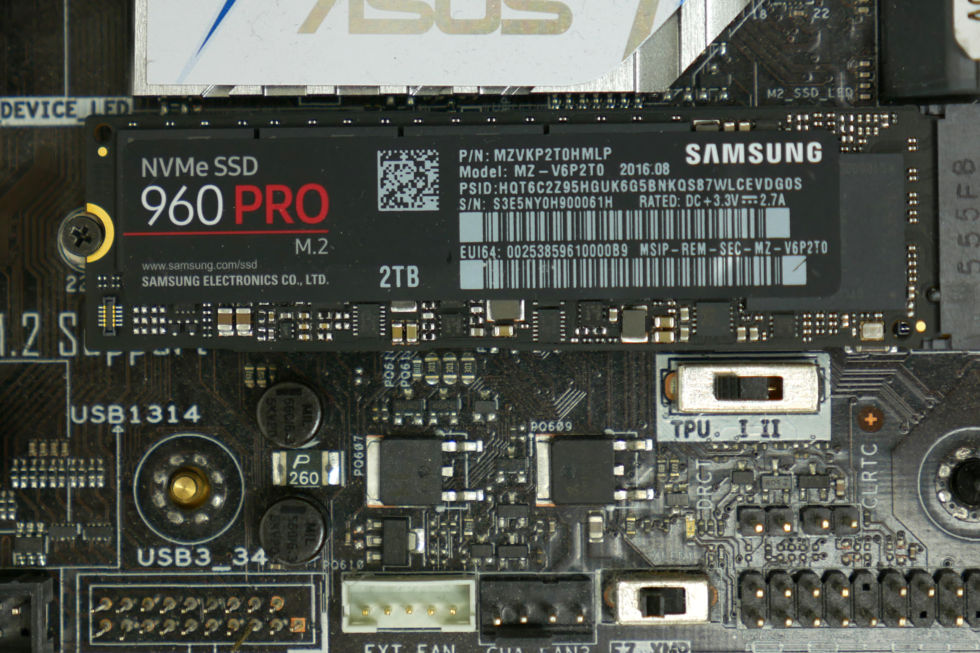 Edward Chester
This has led to some manufacturers dedicating a portion of the NAND to run in an SLC or MLC mode, allowing for fast write operations in the short term. However, with sustained writes, performance drops to the slow TLC-write levels. The 960 Pro makes no such compromises.
Keeping the 960 Pro ticking over is a new controller called Polaris (not to be confused with AMDs Polaris graphics architecture). Unfortunately, Samsung hasn't revealed too many details about it other than to imply it's a variant of the UBX controller in the 950 Pro, which uses five processing cores rather than three, with one of those cores dedicated to managing communication with the PC's host adapter. Also key to any SSD is a portion of fast DRAM to act as a data cache between the NAND and the controller. Here you get 512MB, 1GB, and 2GB for each of the different capacity drives.
To make room for all that NAND, the controller, and the DRAM, Samsung has stacked the DRAM on top of the controller, in a package-on-package design. It's a neat solution and one that will be most welcome for those who've been pining for a 2TB drive in this form factor. Power consumption is also down: Under load the 960 Pro uses 5.1W, compared to 5.6W for the 950 Pro.
Benchmarks Samsung SSD 960 Pro Test System Spec CPU Intel Core i7 6700K Motherboard Asus Z170-A Memory 8GB 3000MHz DDR Test drive 1 Samsung SSD 960 Pro 2TB Test drive 2 Samsung SSD 960 Pro 512GB Test drive 3 Samsung SSD 950 Pro 512GB Test drive 4 Samsung SSD 950 Pro 256GB Test drive 5 Sandisk Extreme Pro 480GB Test drive 6 Samsung 850 Pro 512GB OS Windows 10 Professional 64-bit
To test the new drives, I loaded them into an Asus Z170A motherboard along with an Intel Core i7-6700K, and 8GB of 3000MHz DDR4, while Windows 10 Pro 64-bit was the OS of choice. Samsung has a new driver coming out for the 960 drives that it isn't available yet, but Samsung is confident that Microsoft's own NVMe driver gives representative performance results.
Synthetics
Kicking things off with the freely available synthetic benchmark CrystalDiskMark 5.02, these drives immediately show what terrifying speeds they're capable of. Notably, you have to increase the test file size from the default 1GB to see representative results (we used 4GB), because the drives are so fast they hardly have a chance to get up to speed with such a small amount of test data.
With that change made the drives performed in line with Samsung's numbers. Both the 512GB and 2TB drives hit over 3,500MB/s sequential read. However, due to the fact CrystalDiskMark actually pauses momentarily during its write tests it actually under reports maximum write speed—the drives are simply too fast for the way the benchmark is coded.
Similarly, in random read and write operations the 960 Pros deliver some staggering figures. While the 512GB 950 Pro can manage 1139MB/s read and 333MB/s write speeds, the 512GB 960 Pro can hit 1376 MB/s and 1401MB/s speeds, while the 2TB version stretches to 1861MB/s and 1289MB/s.
Moving on to AS SSD, the way this benchmark is set up means these drives again can't hit their theoretical maximum sequential performance, and as such the increase isn't as marked. But there's still a difference. While the 512GB 950 Pro managed 1652MB/s read and 832MB/s write, the 512GB 960 Pro stretched to 2600MB/s read and 1893MB/s write.
Likewise, random performance is very impressive. Comparing those same capacities again, the 950 Pro hit 1146MB/s read and 378MB/s write, while the 960 Pro hit 1255MB/s read and 1293MB/s write.
Finally, firing up IOmeter showed that these drives can live up to their claimed random IOPs numbers. The 2TB drive hit a staggering 491,967 read IOPs read and write 358168 IOPs, while the 512GB drive managed 335,732 IOPs and 358,115 IOPs respectively. These figures compare to 309,611 IOPs and 102,672 IOPs for the 512GB 950 Pro.
Real-world benchmarks
These numbers are impressive, but they only mean so much in real life—after all, it's not like your USB memory stick or SD card is fast enough that you'll notice any difference copying your latest photos and videos to these drives. As such it's important to consider some real-world examples of what difference these drives make. To that end PCMark 7 and PCMark 8 both include storage benchmarks that run the storage access patterns of real applications—things like Windows Media Player and Photoshop.
Starting with PCMark 7, although the overall scores all look fairly close, two particular scores are quite revealing. The Import Pictures and Start Apps tests both have the 2TB 960 Pro, 512GB 960 Pro and 512GB 950 Pro delivering very similar results, with only the 256GB 950 Pro trailing markedly, suggesting the extra speed is of diminishing benefit.
It's a similar story in PCMark 8, with most of the tests showing minimal difference between the fastest and slowest drives, except for the overall Bandwidth score. It does back up the synthetic benchmarks, showing that there is indeed some advantage to the 960 Pro, just not one you'll necessarily notice in most day to day tasks.
In another real-world test we measured system boot time using Bootracer, using a fresh install of Windows on each drive. Here we can again see that the extra speed is of minimal benefit. In fact, even top-end SATA SSDs perform just as fast. It's only when you get to genuinely budget SATA SSDs that there's much difference.
Conclusion
The Samsung 960 Pro is exceptionally fast. On raw performance it is by the fastest consumer SSD you can buy. If you simply must have the absolute best inside your PC, and you're into benchmarking bragging rights, then there's little reason not to take the plunge. Prices are high, but not unreasonable for the colossal speed and capacities you get. The significantly reduced warranty is a shame, but five years is still comparable with other drives on the market. And let's face it: if you're considering buying one of these drives now, you'll probably be quite happy to look at upgrading again in another five years.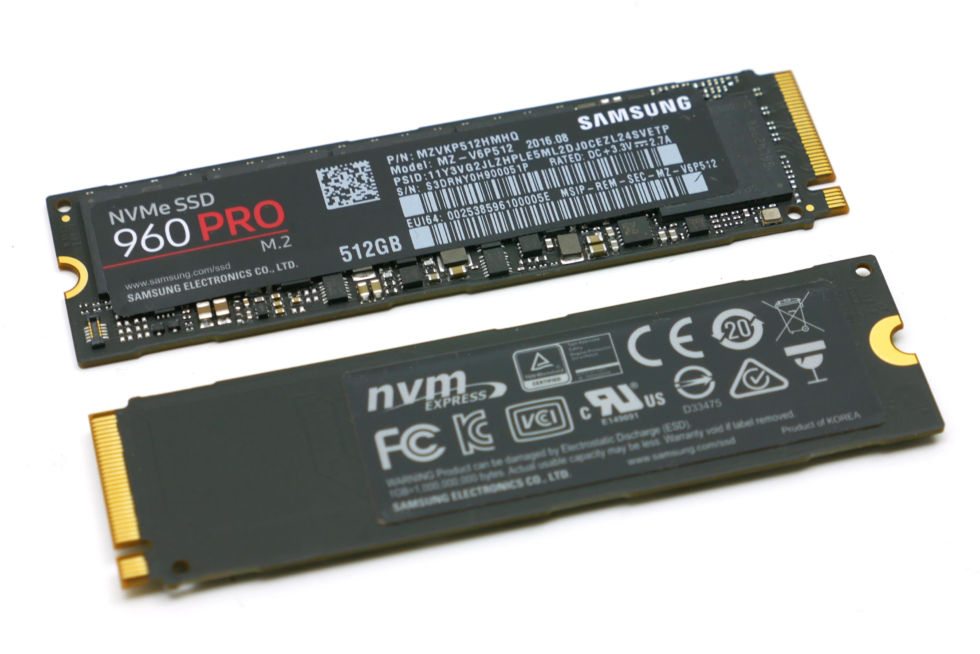 Edward Chester
But the performance of the 960 Pro just isn't felt in the vast majority of normal computing situations. Existing SSD drives already boot Windows, load games, and perform the background data movements required for all manner of other intense processing so fast that more often than not they're not the bottleneck. Combined with the high price of entry— thanks in part to 512GB being the minimum capacity—and you have a situation where the 960 Pro goes beyond being an aspirational product for normal consumers. It's like aspiring to buy an Nvidia Quadro card to play games: it just doesn't make sense.
For those that don't have money to burn and don't explicitly need the performance these drives provide—i.e. anyone that isn't using these drives for hugely intensive and critical workloads like 4K or 8K video editing—then it's worth thinking about cheaper alternatives. There are drives from likes of OCZ and Kingston that offer great performance for less cash, and of course there's Samsung's own upcoming Evo drive.
While the Evo will suffer from slower sustained write speeds and feature only a three-year warranty, it still looks set to deliver much of the real-world performance of the Pro, and will be far more affordable. Were they not on the horizon, the 960 Pro would be a no-brainer recommendation for the performance conscious. As it stands, the 960 Pro is no-compromises, blazing fast SSD that, much like running four Titan X GPUs in SLI, is something for benchmarking nerds to marvel at, but isn't entirely necessary.
The Good
The fastest consumer SSD you can buy across all metrics
Theoretically long lifespan
Benchmarks needs to re-written to show how fast this thing actually is
The Bad
512GB minimum capacity makes for a high price of entry
All this performance will be lost on most users
The Ugly
Samsung dropped the warranty from 10 years to five
Verdict
If you've been chomping at the bit for ever more speed from your SSD then Samsung has delivered. The 960 Pro series is astonishingly fast. However, for most users the 960 Pro may be an aspirational purchase too far.
http://arstechnica.c...sd-you-can-buy/